The Fruits Of Our Labor

NOA

In 1997, Postal Products Unlimited became one of a select group of suppliers to be awarded a National Ordering Agreement (NOA) with U.S. Postal Service. The agreement brought immediate savings to the Postal Service in the form of negotiated price discounts Postal-Unique Contract

In 2004, Postal Products Unlimited was chosen as the approved source of Postal-Unique products used by Post Offices throughout the United States. Now, all purchases of postal-unique supplies and equipment are purchased from Postal Products through eBuy, the mandatory USPS purchasing site. With this 10-year Postal Service Contract (renewable after 5 years), we are looking forward to the future.

ISO-9001:2000 Certification

In 2005, ICM achieved ISO 9001:2000 Certification through its dedication to quality control.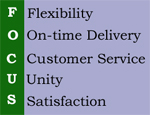 ---
Your One Stop Shopping Resource

We market, manufacture and distribute thousands of institutional, commercial, consumer and government products through color catalogs and easy-to-use secure retail websites. ICM takes pride in our high-quality products and longstanding reputation as a low-price leader.